Coming to stay in the House
The home-like Ronald McDonald House is located less than a kilometer from the HUS New Children's Hospital, at Oksakoskenpolku 6, 00250 Helsinki. The House consists of three separate log frame wooden houses with a total of 14 peaceful family rooms. Each house also has comfortable common areas. For those arriving by car, there is free parking in the yard.
Applying to stay in the House
The HUS New Children's Hospital directs families to live in the Ronald McDonald House. If your family wishes to stay at the House, please contact the department of the New Children's Hospital where your child will be treated. The hospital will send your accommodation application to the House. You can inquire about the room status after sending the application and 3 – 4 days before your arrival by calling the House office (phone 09 – 4780 1600) on weekdays from 9 am to 4 pm.
Accommodation costs
The child's guardian(s) mentioned in the certificate from the doctor need to pay at least €15/person/day in all cases.
The accommodation fee is 35,18€/parent/per night. If the family is entitled to receive support from KELA (the Social Insurance Institution of Finland), they will cover 20,18€/parent/per night – in this case, parents pay only 15€/person/per night. Sisters and brothers of the patient are warmly welcome to stay in the House, a fee of 15€/night is also applied to siblings who are 4 years old or older. If other extended family members (such as grandparents) come to stay in the House, they pay 35€/person/per night. Permission must be asked from the House personnel.
Please don't try to make it on your own – help for the family of a sick child
The social workers of the hospital are there to support families with a low threshold, and their goal is to make it easier for the family to keep up with normal life. You can ask for help, for example, with worries related to coping with everyday life, for arranging help at home, and with questions related to financial matters.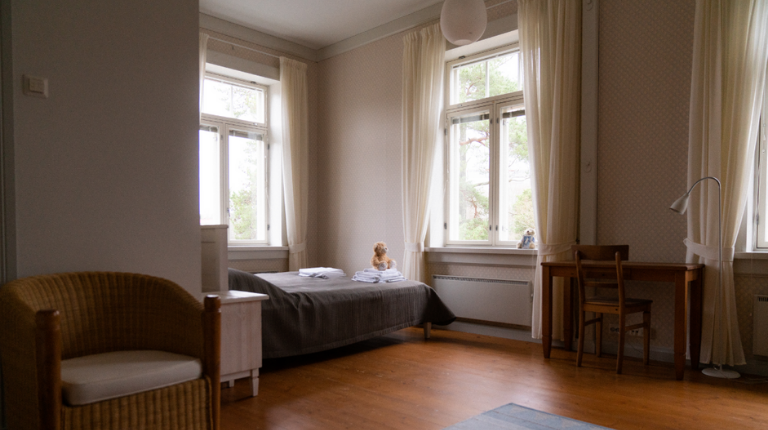 Space to breathe, peace in your own room
The Blue, Yellow and Green Houses located in our lush garden area contain a separate spacious room for each family with three beds as standard (the rooms can also accommodate an extra bed/baby bed), a desk, and a private bathroom. Each room is stocked with soft towels, warm blankets, fresh sheets, a hairdryer, and a fan.
Our house is a peaceful and home-like place where families take care of their own daily chores such as cooking, washing personal laundry, and cleaning their own room. It is the responsibility of each family to take care of the cleanliness of the premises as a community (garbage removal, general cleanliness) and families must be considerate of the other residents on a daily basis.
This is what it looks like at the House / 360-panoramic presentation >>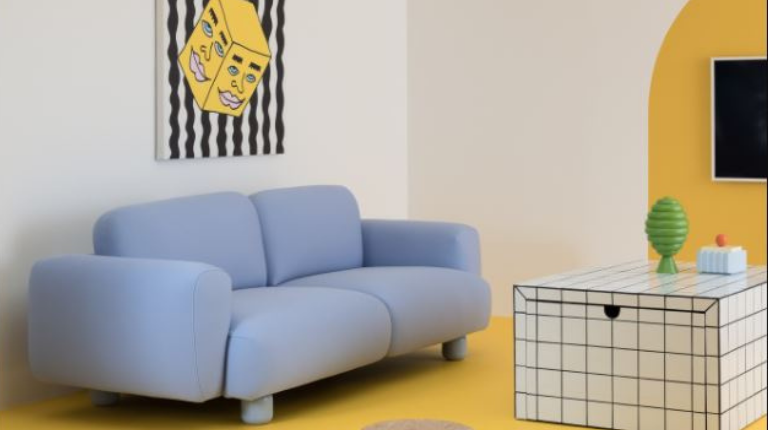 Smooth everyday life in common areas
Our House is like a well-equipped home. In each cozy House, you can find quiet reading nooks with books, and we also receive a donation of newspapers and magazines (Helsingin Sanomat & HBL) for families to read. It is nice to chat with other residents in the common areas. The common lounges have a TV, computer, and game consoles. The House also has free WIFI for residents.
Each House also has a shared kitchen that is fully equipped – each family has its own refrigerator and dry goods cabinet. The kitchen is suited for cooking for a large group or making morning coffee. There is coffee, tea, and spices in the kitchens for families to use.
A washing machine, tumble dryer, and fragrance-free detergents are available for personal laundry. Even during a longer stay, everyday life is simple – you can take care of chores easily at the House, and thus you have more time for what is most important, supporting your sick child.
We have also taken siblings into account – the House has a wide range of toys and games. In addition, there are two large playrooms on our premises. There is also a playground for the youngest of the family in our safe yard.
The playroom of the Blue House has been renovated in the summer of 2021 by Bo LKV together with design partners.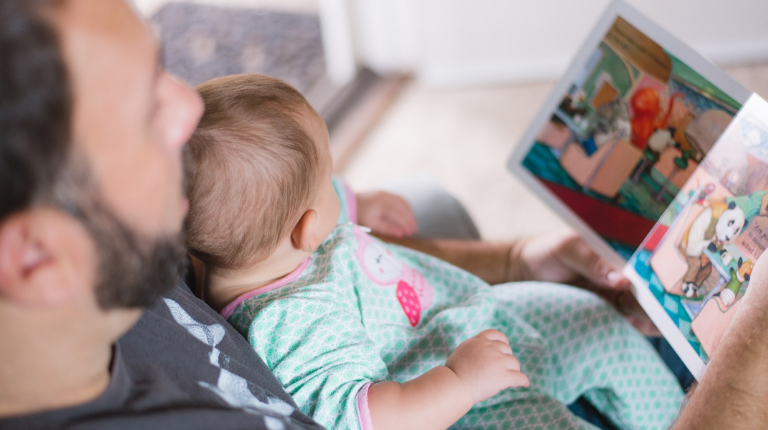 We promote the well-being of the whole family
The hospital takes good care of the patient and we take good care of the family. At the House, everyone can rest by themselves when they wish, but you can also always find valuable peer support and families in a similar situation, from whom you can certainly get support. Some lifelong friendships have been formed at the House.
Adults of the families have the opportunity to visit the gym and group exercise classes at Meilahti Liikuntakeskus, visible from our yard, free of charge.
Families can relax in the summer in our lush garden. The proximity of the seaside also allows you to clear your head and spend time outdoors. Families can also borrow bicycles from the House, so it's easy to get to the hospital and to outdoor activities such as going to Seurasaari.
At the end of the red building in our yard, you can find the Feel Good room ("Hyvän Olon huone") which contains exercise equipment and a wonderful massage chair for relaxation.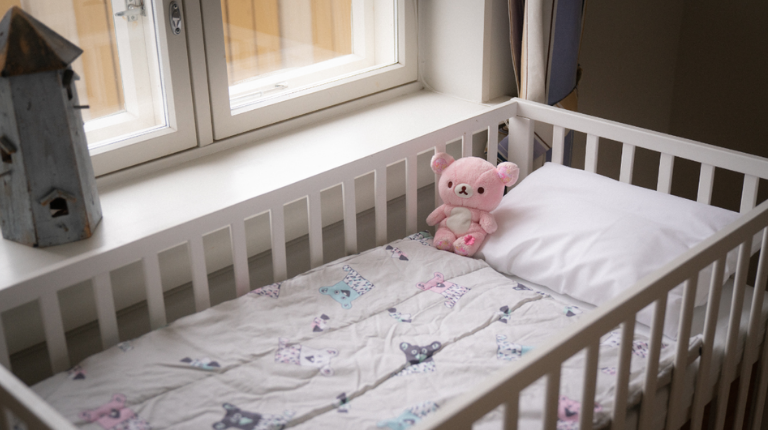 When you come to the House, what should you bring with you?
It's easy to come to us, families mainly only need to take care of bringing their own personal items and food.
In the kitchens and laundry rooms of the Houses, you can find, among other things, coffee, tea, spices, and detergents donated by our sponsors. Sheets and towels are also ready at the House.
For small residents, the House has highchairs, sitters, baby beds, and strollers to make everyday life easier. Electric breast pumps, for which each used needs to have their own set of tubing, are also available in each House.